Style And Fashion With Earrings
If you happen to love fashion earrings, then don't hesitate to keep reading and explore the latest trends, styling tips and suggestions of how you can rock these trendy earrings for this season.
And, you have probably seen some of these styles because many celebrities and fashionistas already showed their love for the fashionable jewelry pieces. However, don't hesitate to let us know in the section below, which styles you like the best.
Make your look more trendy with a pair of fashion earrings
Via Pinterest
In today's fashion blog post you will be able to see from elegant statement earrings, the "all times favorite" stud earrings all the way to minimalist inspired modern earrings that accessorize any outfit in a very simple, but modern and cool way.
Happy Reading!
1. Modern hoop earrings for a fashionable wear
If you like to wear simple, but trendy earrings then these modern hoop earrings are just for you. Also, you can wear them with elegant, chic or super casual outfits to make them more trendy and interest. Hoop earrings are very fashionable, but easy to style jewelry pieces.
For a sexy look wear large hoop earrings
Feel free to style your hair in a cute pony tail or beach waves or an easy going look. The modern and playful touch of the hoop earrings could instantly enhance and make more interesting any of your looks. You can be super sexy, elegant or casual with such a pair of fashion earrings.
In addition to your attractive and girly styles add a pair of hoop earrings
Via Pinterest
Hoop earrings are particularly great with cute and feminine hairstyle, but because of their size they could also be perfectly styled with your hair down.
Also, you can wear similar earrings with casual or super trendy outfits. Their versatile characteristic and modern appearance makes them very special and cool.
Trendy hoop earrings look always appropriate
Left: Modern Hoop Earrings; Right: Hoop Earrings Gold
By Happiness Boutique
Here are two pairs of modern and minimalist inspired earrings from Happiness Boutique that are very well-polished and sleek. These earrings could transform your outfit into a modern and trendy look.
2. Fashion tassel earrings for a stylish boho look
Another super fashion earring trend is the tassel earrings. Tassel earrings are great for classy, elegant or boho looks. In addition, the diverse range of collections offered could give you a chance to play around and create a super unique look.
Hoop tassel earrings look so cute and exotic
Via Pinterest
Boho and tassel earrings are so appropriate for any spring or summer look. The colorful palettes and playful designs of these earrings make them so special and charmful to any lady with sense of humor and style.
These tassel earrings are an absolute must have for this season
In addition, you can so effortlessly style them with your casual, professional or chic outfits. Plus, their designs allow you to give a pop of color and freshness to any of your outfits. So comfortable to wear and beautiful to look at.
Give your looks a modern and girly touch by wearing tassel earrings
Tassel earrings are always a good idea if you want a different kind of fashionable look. You can dress them up by wearing fitted clothes and heels or wear them super casual casual by wearing sandals and a pair of your favorite skinny jeans or shorts.
Any of these earrings will make your outfit more fashionable and cool
Left: Boho Statement Earrings; Right: Bohemian Style Statement Earrings
By Happiness Boutique
Here are two suggestions from Happiness Boutique about tassel earrings, these jewelry pieces are so colorful and fun that there is no doubt that your outfit won't end up being so trendy and fashionable.
3. Stylish ear jackets for a remarkable look
A trendy way of accessorizing your outfits is by wearing ear jackets. The subtle, but remarkable of the ear jackets could make any look more eye-catching and attractive. Also you can wear them perfectly with other jewelry pieces such as a delicate bracelet or necklace. 
In addition to your fashionable looks wear an ear jacket
Ear jackets have many different styles therefore you can decide weather you them to be more daring or casual. In addition, ear jackets are like stud earrings but with a different twist to them, therefore if you like wearing basic outfits they are a great option.
Ear jackets with pearl accents are such timeless jewelry pieces
You can get an ear jacket with pearl accents for a classy look or ear jacket with rhinestone to brighten up any of your outfits. No matter of the design that you pick up, ear jackets would always look very sleek and on point.
Wear ear jackets to make your outfit more remarkable
Left: Dita Von Teese Pearl Fan Ear Jackets; Right: Pearl Ear Jackets by Happiness Boutique
Any of these ear jackets will bring a  lot of elegance and style to your outfits. These ear jackets from Happiness Boutique are very trendy and popular at the moments, therefore you will be able to add a trendy piece of jewelry to your collection.
4. Statement earrings for a stylish glam look
An easy and certain way to accessorize your outfit in a very trendy and stylish way is by wearing statement glam earrings. You can get yourself earrings with rhinestones or crystals for a very sparkling and remarkable style.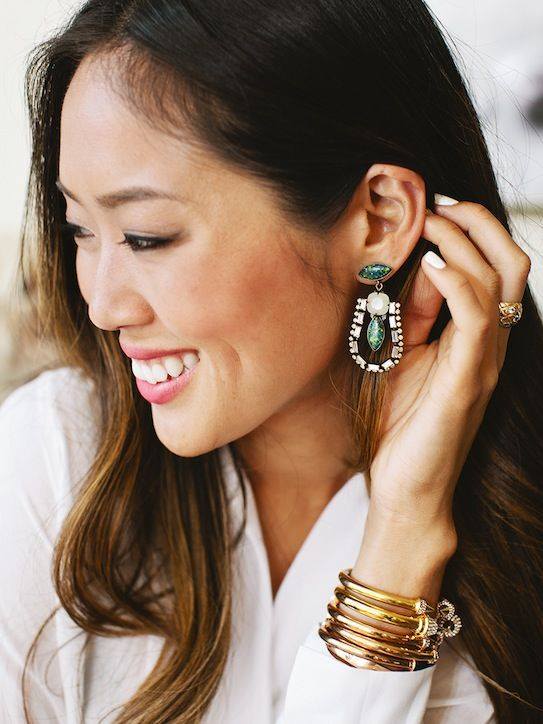 Glam up your style with a pair of statement earrings
Via Pinterest
Many women believe that statement earrings are only appropriate for gala nights or special occasions, but if you style them properly they could be a great addition to any of your leisure or working outfits.
Colorful statement earrings are perfect for the spring and summer times
Statement earrings are a great way to accessorize a more basic outfit. In addition, statement earrings are great way to compliment a trendy outfit or colorful outfit that needs just a little twist of modern touch.
Furthermore, the rich texture of these chunky earrings makes them so luxurious and sophisticated.
In addition to your spring-summer looks add a pair of colorful statement earrings
Left: Treasure Chest Multitone Statement Earrings; Right: Earth Tones Statement Earrings
By Happiness Boutique
These statement earrings from Happiness Boutique of settled colors are great to be worn at any occasion. You can style them to go to weddings, birthday parties, night out events or just to look while you shop or travel.
5. Double ball earrings for a classy look
A subtle, but still visible way to show your love for the trendy fashion earrings is by wearing double ball stud earrings. The best thing about these jewelry pieces is that they are subtle, but trendy enough to make a difference to any of your looks.
For a classy look wear pearl double ball stud earrings
These jewelry pieces became very popular and there is a reason why. A delicate but very remarkable design that is so different than the usual.
The double ball stud earring is great for weddings, special occasions, but at the same time perfectly suitable for any stylish or even casual look.
The double ball earrings look so remarkable and stylish with any outfit
Source Unknown
In addition, you can the double ball earrings with any other jewelry piece or fashion style. Feel free to wear the with your hair down or up because their adaptable characteristic allow you to play around with their styling.
Our favorite fashionistas wearing the double ball stud earrings
Via Pinterest
As you can see no matter of the person's style you can still pull up this cool and trendy look. And you can chose from different colors or sizes that suit your personality and character in order for you to wear them the best possible way and feel confident at the same time.
These two classic pairs of double ball earrings will make your looks more sophisticated
Left: Simplicity Pearl Earrings; Right: White Marble Delicate Earrings
By Happiness Boutique
These two double ball earrings are very classy and timeless, therefore if you happen to like this style you can always add a super classy, yet trendy pair of earrings to your jewelry collection.
6. Cute fashion earrings for the perfect spring summer look
To achieve a very trendy, but cute and girly look you can accessorize with a pair of fun shaped earrings such as these heart earrings. The minimalist design of the earrings allows you to easily pair them with any other jewelry or any kind of an outfit.
Cute fashion earrings appropriate for a casual or elegant looks
Via Pinterest
Furthermore, because of the fun and cool appearance of these earrings you can style them with very basic, girly or even night out looks. You will definitely get many compliments wearing similar earrings.
Make your girly outfits even more prettier with a cute pair of earrings
Wearing a different kind of earrings, no matter of their size, will look very noticeable. Also, don't hesitate to stack them up with other jewelry pieces for a remarkable cool style. Stacked earrings have been rising as a trend so be daring and give them a chance.
Cute earrings for any of your looks
Left: Minimalist Safety Pin Earrings; Right: Minimalist Delicate Star Trio Ear Crawlers
By Happiness Boutique
These minimalist inspired earrings have such fun shapes that could instantly enhance and make more interesting even your most basic outfit. Because of their delicate design you can wear them at all times with any of your looks.
7. Wear ear crawlers & cuffs for a noticeable style
Another way to be trendy and noticeable is by wearing a sparkling ear crawlers. These jewelry pieces are so unique and remarkable that there is no doubt that you will stay unseens.
In addition, they are completely enough to accessorize any of your look so you don't need to worry about other jewelries and how you are going to match them with the rest of your looks.
For a noticeable style wear ear cuffs
Via Pinterest
The best thing about ear climbers, ear crawlers and ear cuffs is that they are subtle but remarkable enough to give your look interest and glamorous style.
In addition, these jewelry pieces are great for hipster, street style inspired or urban chic looks. However, you can always rock this style to special occasions and events.
In addition to your cool look wear statement ear crawlers
Via Pinterest
Feel free to wear your earrings with your hair up or down because both ways look really attractive and stylish. Feel free to wear your earrings with your hair up or down because both ways look really attractive and stylish.
Also, you can wear them with sneakers or dress them up with heels for a daring and fearless style. This pair of earrings is definitely a great option for the ladies who want to show their wild side.
Sparkling ear cuffs are a great add-on for this season
Left: Crystal Wings Ear Crawler; Right: Happiness Ear Crawlers
By Happiness Boutique
Make any of your looks more eye-catching and sexy by adding any of these trendy and glam ear pieces from Happiness Boutique. There is no doubt that you will end up with a very attractive outfit that will get many stares. :)
8. Trendy stacked earrings for a funky wear
Being able to stack one's earrings is an absolute creative process where you are the designer. This look allows you to mix and match endless designs and styles of earrings that will give you a very original and special style.
Accessorize your daily looks with stacked fashion earrings
Via Pinterest
In addition, you can combine different in style, size or color earrings for a distinctive look. However it is easier to pair up earrings from the same metal and vibe, but there is still a lot of room to get imaginative with your creations.
In addition to your everyday outfits wear a stack of fashion earrings
Source Unknown
Many ladies enjoy to combine rose gold and gold earrings for a fresh and young look. If you want to brighten up your outfit you can simply add one or two earrings with tiny rhinestones on them.
However, if you want a rather casual style, then the plain or twisted earrings are just perfect.
9. Modern art inspired chunky earrings for a noticeable artsy look
Standing out from the crowd could sometimes be very hard and challenging, especially when we are working ladies and rush to go out to work. But, the good news is that a small detail from your outfit could make this happen.
All the art hearted people ladies could accessorize their looks with these amazing art fashion earrings
Via Pinterest
For some ladies these earrings could be a little exaggerated, but their artistic and different appearance is so attractive.
In addition, you don't need to think too much of your clothes because these earrings are completely enough to dress up your casuals or to refresh your old styles.
In addition to your artsy looks wear a pair of art inspired earrings
Via Pinterest
Artistic and daring, these modern and fashion earrings are so cool. Try to wear them to cultural events, special celebrations or to work if you feel comfortable and confident wearing a piece of jewelry that will be remarked.
Finally, I hope you liked this fashion blog post and these fashion earrings style tips. As women we like to be able to style and accessorize your looks in a trendy, chic and cute ways. Therefore, I really hope that these tips were engaging and interesting.
Accessorize your summer looks with trendy tassel earrings
In addition, don't hesitate to leave a comment and share your favorite models and ways of styling your fashion earrings.
Let us know weather you prefer delicate and cute earrings or statement and dangling earrings  when you style your daily looks!
Thank you & Happy Styling!